Part II: Five Years Later
Part II: Five Years Later
Kidney Failure in Egypt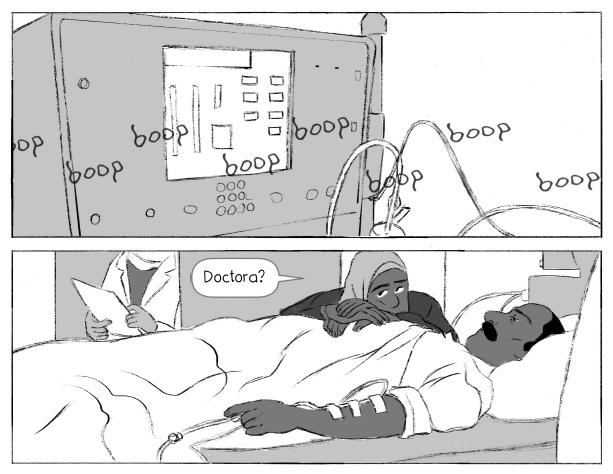 Mansoura Urology and Nephrology Center
The Urology and Nephrology Center at Mansoura University is an anomalous success story in Egypt. It is a leading tertiary care center specializing in kidney and liver diseases that is able to deliver high-standard free treatment to patients who cannot afford to pay. As such, it is a sharp contrast to the Kasr el Aini (Cairo University) Hospital where Layla receives her medical training, which is under-resourced and overcrowded. For Layla, Mansoura represents her hopeful vision for Egypt's future in medicine. It is an arduous 3-hour trek by bus from Maadi to a provincial center in the Nile Delta, but Layla wagers that taking her ailing father and family there will be worth the trouble.
Ahmed, Layla's Brother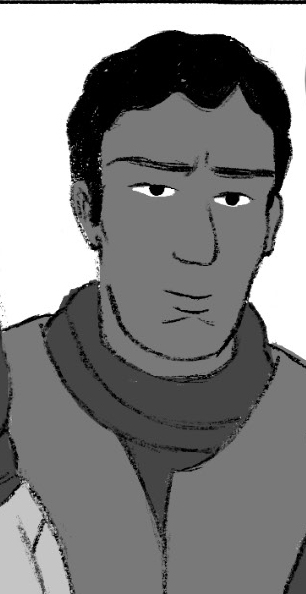 Older than his sister, Layla, Ahmed is of the generation of male youth who, frustrated with the lack of economic prospects in his country, migrated to the Arab Gulf to work in backbreaking construction projects. He is injured while on the job in Saudi Arabia, and when this injury makes his employers aware that he tests positive for hepatitis C, he is deported back to his country. Hepatitis C is a disease that afflicts a large portion of Egyptians (estimates vary between 10 percent and 30 percent), in large part due to public health campaigns in the 1970s and 1980s that accidentally infected people through injections to treat or prevent schistosomiasis. Upon his return to Egypt, Ahmed attempts to vote in the parliamentary elections of 2010, and he is bullied at the widely fraudulent polls. This sense of political, economic, and social disenfranchisement fuels his resolve to fight in the streets of the revolution. While Layla herself participated in the initial 18-day campout at Tahrir Square, she cautions Ahmed against his continual resistance in the months of brutal military rule following Mubarak's forced resignation. Heedless of her warnings and despondent over the death of his father, whom he could not help save, Ahmed takes part in the violent clashes between the military and protesters in Muhammad Mahmoud Street in November 2011.
Cairo Medical School
Kasr el Aini is the oldest modern hospital in Egypt. Today, it is a large tertiary care center, adjacent to Tahrir Square, and serves as the main hospital for Cairo University Medical School. It offers subsidized healthcare for poor patients who also form the basis of medical students' clinical learning. It is also the most prestigious medical school in the country, accepting only students who rank the very highest in the nation on their high school final exams. It was a huge feat for Layla to score high enough to attend, without having had the resources to pay for the "private lessons" that are essential for other students' acceptance. Medical school is a complex terrain for Layla: it is there that she meets nurturing and inspiring people such as Dr. Dina Shokry, but also arrogant doctors who scorn their poor patients. This hospital is the base where Layla and her medical student peers learn clinical skills. It is in the halls of Kasr el Aini that Layla reacts pointedly to another medical student who blames a poor female patient for her own condition. This episode demonstrates the different access that people have to healthcare in Egypt, which differentially predisposes them to serious disease. Layla sits in class with wealthier students who have financial access to their professors' special notes, but she also meets in class other political revolutionaries and is introduced to the April 6 Movement.
BRCA Genetics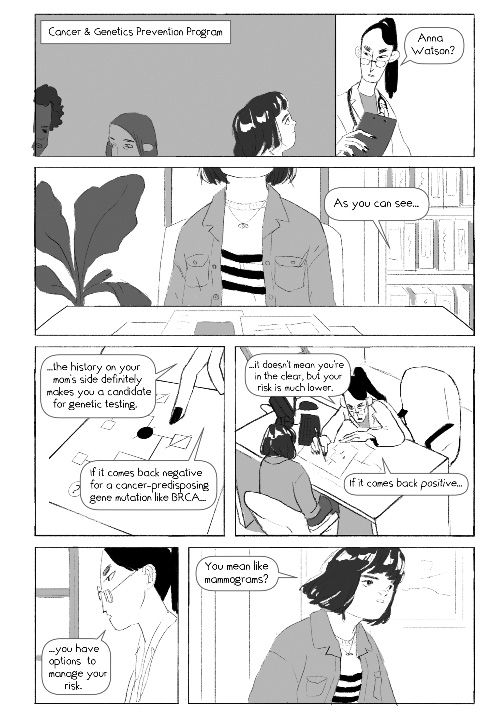 Cancer Genetics and Prevention Programs in the United States
Through her private insurance, Anna is able to access a state-of-the-art private cancer prevention facility, which offers one-on-one counseling and assessment of her hereditary risk for cancer. Although cancer genetics and prevention programs are associated with most major cancer clinics in America, they offer medical services that many people in the United States are not able to afford, and services that Layla might not fully appreciate or understand. As Anna sits in the waiting room and then meets with the counselor, we see the toll that cancer has taken on her family. There is no one there to comfort her, as she has lost all of her close relatives on her mother's side and her father and friends don't fully understand. Readers also witness the double-edged sword of this genetic information: she is grateful to be able to access this knowledge but overwhelmed by the difficult choices she might have to make if she has a BRCA mutation.
For more information:
See the trailer for In the Family, a 2008 documentary by Joanna Rudnick, a Chicago filmmaker who struggled to make decisions about her own genetic cancer risk.
In a clip from In the Family, three sisters get their genetic test results together.
For more information:
See the trailer for In the Family, a 2008 documentary by Joanna Rudnick, a Chicago filmmaker who struggled to make decisions about her own genetic cancer risk.
 In a clip from In the Family, three sisters get their genetic test results together.
Previvor Support Group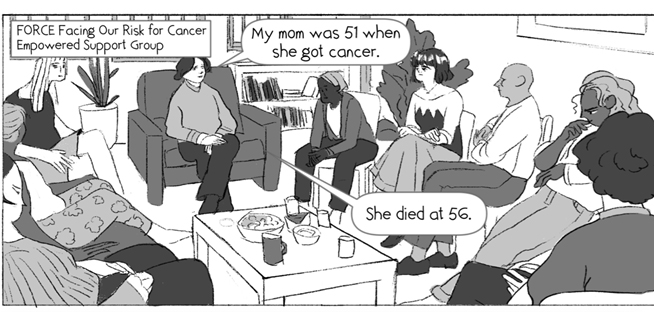 Hereditary Cancer Risk Support Groups
While Layla begins to find community and support among young revolutionaries committed to addressing the political, economic, and environmental determinants of health, Anna finds community and help in a support group for people who are also living with a hereditary risk of breast and ovarian cancer. Although both groups meet in people's homes, Anna's group focuses on sharing personal and familial stories of cancer and genetic risk, and Layla's group focuses on staging protests to address political and social risks to health and survival.
For more information:
In another clip from In the Family, filmmaker Joanna Rudnick visits a support group.
Facing Our Risk of Cancer Empowered (FORCE)
Years later, Anna learns that she may carry the heriditary cancer gene responsible for her mother's death. Meanwhile, Layla's family is faced with a difficult decision about kidney transplantation. Their friendship is put to the test when these medical crises reveal stark differences in their perspectives…